We constantly supervise the work on modeling to control the course of the process in accordance with the assumed technology.
We can make new modeling, renovate damaged or incomplete existing modeling for the customer, or and adapt it to specific moulding technologies, depending on the customer's needs.
We also have casting models of shafts and core boxes in our stock, which allows us to make castings of shafts and cast iron sleeves in a wide range of diameters so that the customer do not have to bother with preparing the modelling.
2
Core production technology
We make cores manually on chemically hardened materials as well as using the CO2 gas technology.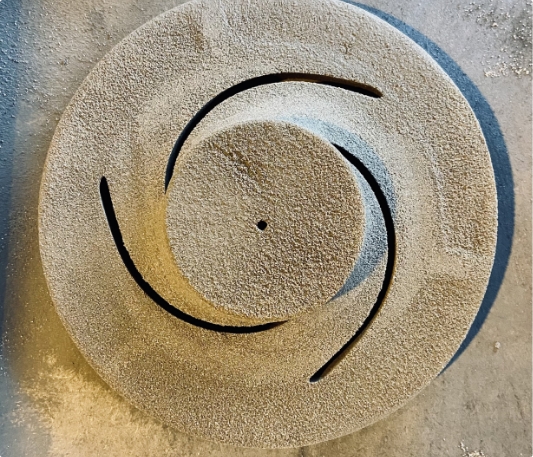 3
Mould production technology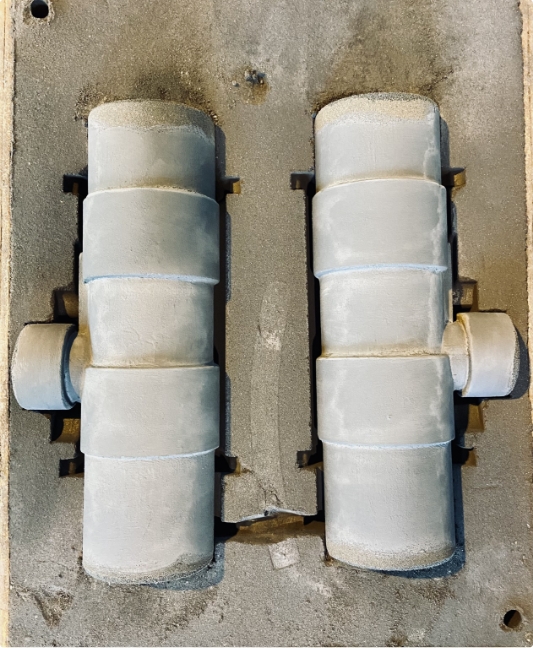 Casting moulds are made by manual moulding based on bentonite compounds. The compound is prepared using a modern roller mixer for obtaining the high-quality compounds.
We are also preparing to implement the moulding process based on Alphaset chemically hardened binders (Q2/Q3 2022).
4
Metal smelting technology
CAST IRON
is smelted from the highest quality machine scrap and certified pig iron with constant monitoring of the chemical composition before liquid metal discharge, and before pouring the moulds.
Metal smelting process:
medium-frequency double-crucible furnace with a capacity of 500 kg;
COPPER AND ALUMINUM ALLOYS
are smelted only from certified ingots.
Metal smelting process: liquid fuel crucible furnaces.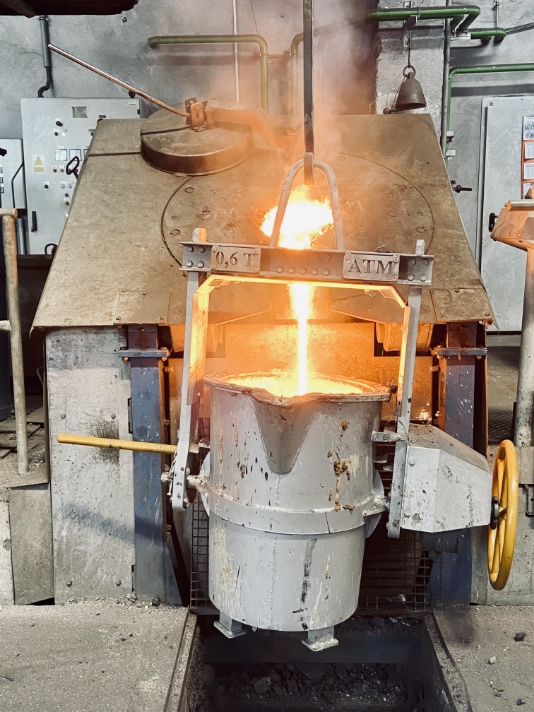 Castings are initially cleaned in the shot-blasting process in a modern shot-blasting chamber, and then each casting is ground manually to obtain and ensure the best quality.
The entire technological process is carried out in accordance with the Quality Policy of Zakłady Mechaniczne WIROMET SA, based on the Quality Management System as per PN-EN-ISO 9001 as well as in accordance with the Environmental Management System as per PN-EN ISO 14001. The process is constantly supervised and monitored. Its course and measured parameters are annotated and entered into the production process for a given product. Production is carried out under strict supervision of quality control.
---
In addition, to guarantee the highest quality, we perform:
| | | |
| --- | --- | --- |
| testing parameters of moulding putty (permeability, humidity) | testing the chemical composition using an emission spectrometer | testing of strength properties – tensile strength, elongation, hardness, strength tests (Rm [MPa], A [%], HB) |
| testing of input materials used for the process | ordering the necessary input and other materials from reputable suppliers with a quality certificate | |
---
The results of the tests and process parameters are compared to the requirements of current standards. They are the basis for assessing the product's conformity as a result of quality control. At the Customer's request, we confirm the obtained results with an appropriate Certificate.
In order to provide the Customer with a full range of services, we also offer the machining of castings (including skinning).