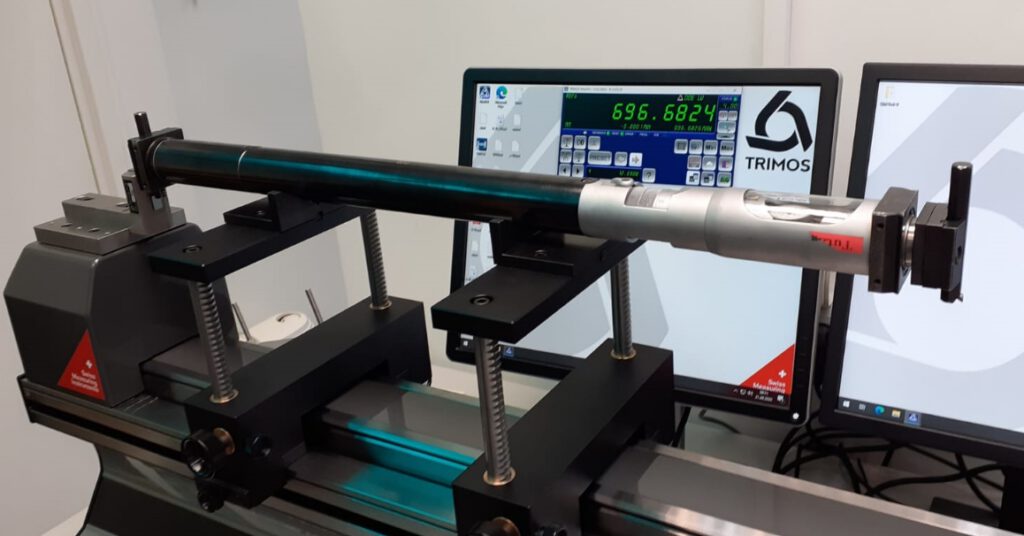 Our Laboratory provides comprehensive measurement services for external customers. Thanks to our many years of experience and qualified staff, we guarantee high quality of services, short lead times and one of the lowest prices in our region.
The laboratory is equipped with apparatus for accurate measurements of:
– geometry: length, angle, flatness
– surface roughness
– hardness of ferrous alloy products — using stationary and portable hardness testers by "EMCO TEST" and "KRAUTKRAMER-BRANSON"
The laboratory checks and calibrates measuring instruments for measuring length and angle, and classifies gauge blocks.
At the client's request, we issue a certificate of the conducted tests. Measuring instruments are supervised in accordance with the requirements of ISO 9001 using specialised Q-MS/GM2000 software.
Measuring instruments:
Length gauge
Horizon series precise length gauge for calibration and checking measuring instruments in the HPD 1500B version with a range of 0-1500 mm, manufactured by TRIMOS SA, Switzerland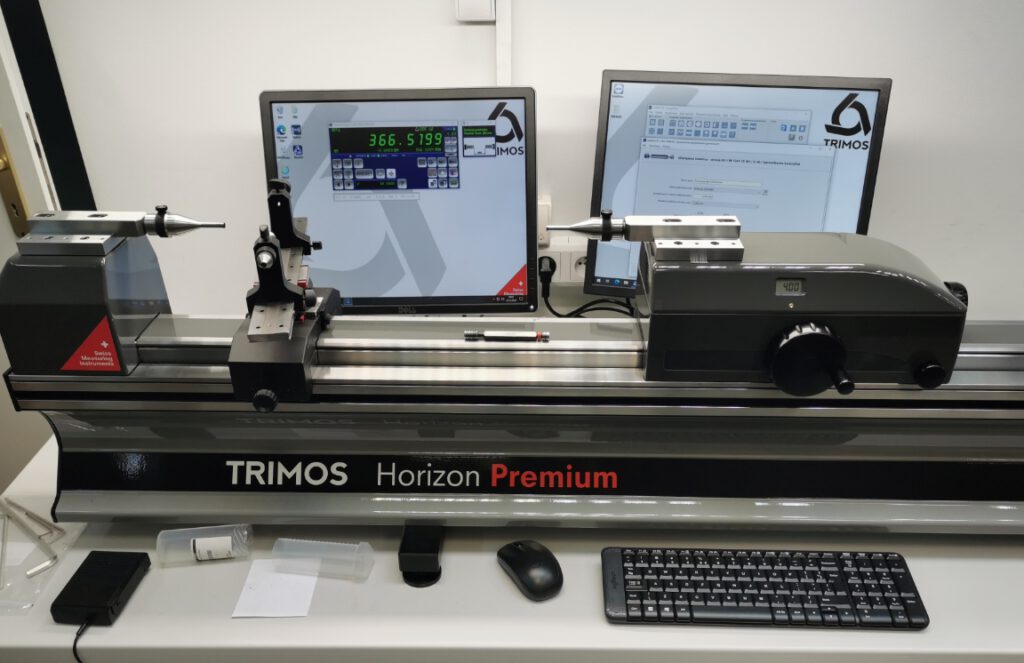 Technical specifications:
External measuring range: 0 to 1550 mm
Internal measuring range: 1 mm to 1500 mm Accuracy: < MPE 0.7 m + (L (mm) / 1000)m *
Repeatability: < 0.2 m
Resolution (switchable): 0.01 / 0.001 / 0.0001 mm
Measuring force (adjustable): 0 – 12 N
Travel speed: 1.5 m/sec
Working temperature: +10 do +40C
Relative humidity: 20-80%
Calibrable
smooth ring gauges, reference rings Ø 1 mm to Ø 240 mm
Piston gauges (up to Ø 100 mm)
Smooth roller and piston gauges up to 250 mm
Thread ring gauges (M5 to M180/56, pitch of 0.5 to 6 mm)
Thread piston gauges (up to M80, length 280mm)
Thread piston Gauges (up to M250)
H-type snap gauges (12 to 150mm/.473" to 6")
H-type Outside micrometre gauge (50 to 1500mm/3" to 60")
Setting/calibration of 2-point dial gauges
Lever gauges (diatests)
Gauges (dial gauges, etc. range up to 50mm)
Checking internal micrometers, micrometer setting standards
Brinell BH3000 hardness tester
Available measuring scales:
Brinell HBW10/3000, HBW10/1500, HBW10/1000, HBW10/500, HBW10/250, HBW10/100, HBW5/750, HBW5/250,
HBW2.5/187.5,
HBW2.5/62.5
Load range: 62.5, 187.5, 250, 500, 750, 1000, 1500, 3000kgf
Adjustable load application time in the range of: 2 to 99 s
Maximum vertical working space: 280 mm
Compliance with standards: ISO 6506, ASTM E10
Zeiss Contura coordinate measuring machine
Head type: VAST XT Measuring range: X = 700 mm, Y = 1000 mm, Z = 600 mm
Maximum permissible length measurement error as per ISO 10360-2: E0 = (1.5 + L/350)μm, PFTU = 1.5μm
Temperature range of guaranteed accuracy: 18-22°C
Scanning error as per ISO 10360-4: MPE_THP = 2.0 μm in 40 s